Friends of Royal Perth Hospital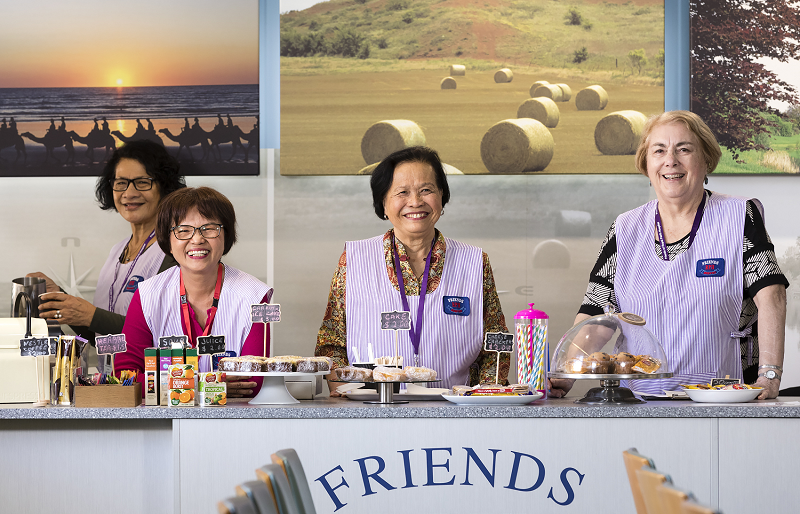 The Friends of Royal Perth Hospital is a group of volunteers which was set up in 1959 and remains an integral part of the patient services provided by the Royal Perth Hospital (RPH) today.
The mission of the group is to:
serve with excellence
complement the hospital services and programs for our patients, visitors, staff and our own volunteers
help alleviate the trauma of hospitalisation.
There are 6 important services provided by our enthusiastic volunteers:
Patient Service
Volunteers visit wards daily to chat with patients and to provide magazines/books, laundry services and any other non-professional support that will assist patients during their stay in hospital.
General Service
Volunteers provide an essential concierge service in the Emergency Department and at Victoria Square entrance. It is often helpful to be guided to where you need to go in a large unfamiliar environment like RPH.
This service also includes assisting patients in the Transit Lounge who are waiting to go home.
Shop and Trolley Service
Volunteers serve in the Friends Shop with the profits from the shop donated to the hospital.
Other volunteers provide a shop trolley service selling to the patients who cannot leave the ward area.
Volunteers also assist in the main Outpatient Clinic in Goderich Street serving hot drinks and snacks at the Friends Kiosk.
Outpatient Service
This service assists patients, visitors and staff in many clinic areas including Breast Assessment, Cardiology and Hypertension clinics.
In addition, the Intensive Care Unit reception service provides an essential liaison service for relatives whose loved ones are in the Intensive Care Unit.
RPH Museum
For those who like history this is the place to volunteer. The Museum has a Curator and a small group of committed volunteers who are involved in researching, recording and conserving the historical objects, photographs and documents that tell the story of the establishment and development of health services in this state. For further information please visit the RPH Museum page.
Information and Support Service
Activities in this service include supporting the administrative side of the Friends of RPH, including the preparation and distribution of the Friends newsletter, and coordinating the receipt of and sorting the donated magazines for distribution to outpatient areas. This service also undertakes work for various hospital departments in a relaxed environment having a cuppa and a chat.
---
If you would like more information about the services or are interested in joining a Friends' service, please contact us:
Phone: 9224 2036
Email: RPH.friendsofRPH@health.wa.gov.au