Museum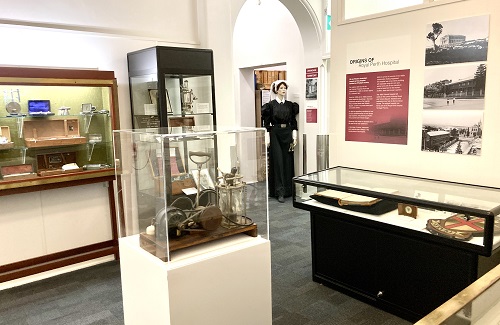 Visit Royal Perth Hospital Museum and explore the history of Western Australia's longest serving hospital.
Hidden in the RPH Heritage Precinct in Murray Street, just minutes from the centre of Perth, the Museum can be found in the 1894 Administration Building alongside the original 1855 Colonial Hospital.
Through objects, stories and archives, the Museum reveals the journey from a desperately underfunded colonial hospital established for the care of the poor and destitute, to Western Australia's leading trauma and teaching hospital.
Discover how WA research and innovation has advanced medicine worldwide in X-ray, HIV, peptic ulcer, cardiology and burns treatment.
Our displays include a History of Epidemics from the 1800s to COVID-19, and an introduction to just some of the past staff of Royal Perth Hospital. Learn about WA's first radiologist William John Hancock and RPH trained nurse and pilot Robin Miller, also known as 'Sugarbird Lady'.
The collection highlights include: an Iron Lung Machine used by polio patient Paul Berry; anaesthetic and X-ray equipment from the late 1800s; surgical instruments; Harry Stephenson Lucraft Photograph Collection c1940; teaching aids over the decades; original nurses' uniforms; custom-made medical devices; photographs and archives.
One of the most valued artefacts in the Museum is a wooden case containing a set of nationally significant Cold Cathode Tubes c1896 imported by William Hancock just a year after the discovery of X-rays. The equipment helps to understand the remarkable achievements in the field of medical imaging and the Hospital's role in those developments. Hancock suffered as a result of his research, at first losing fingers and eventually his life, to radiation poisoning.
Visit the Collections WA website (external link) for a glimpse of the collection.
Visit the Museum
Location: Level 2, M Block, Murray St, Perth WA 6000
Please download the Museum map for directions.
Opening hours: Wednesday and Thursday 9am to 2pm.
Entry is free.
Group bookings by appointment
Please do not attend the Museum if you are feeling unwell.
Access to any other part of the Royal Perth Hospital is prohibited without checking in at the main entries.