WA State Trauma Conference brings together the best in trauma care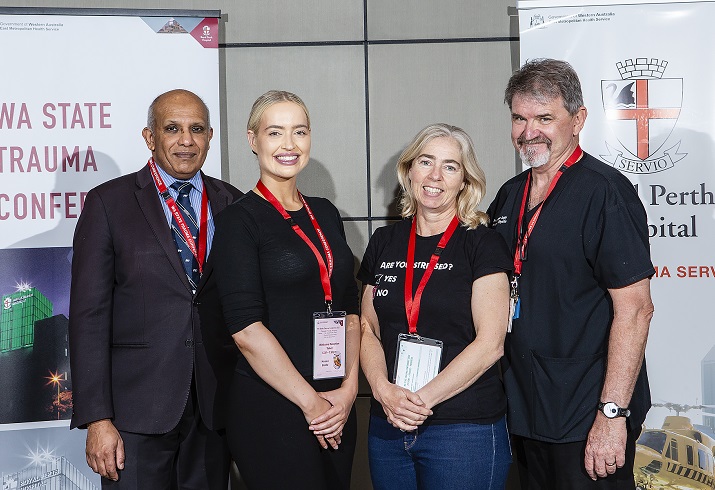 RPH Trauma Surgeon Dr Sudhakar Rao, Service Registrar (General Surgery) Dr Kirsten Biddle, ED Physician Dr Jenny Vance and A/State Trauma Service Director Dr Stephen Dunjey.
The WA State Trauma Conference took place this month, with more than 200 delegates travelling from across the state to attend a range of insightful workshops, presentations and networking sessions.
Initiated by Royal Perth Hospital's Trauma Services Department in 2006, this is the only significant trauma conference of its kind in Western Australia and its thirteenth iteration was opened by the Director General of the Department of Health, Dr David Russell-Weisz.
The DG praised the efforts of all trauma care providers across the public and private sectors, who remain dedicated to ensuring people throughout the State receive the best possible care and treatment.
"May we continue to partner in delivering care that places people at the centre – ultimately improving the experiences of patients, and their families and carers," the DG said.
"It is vital that we continue to advance the fields of injury prevention, pre-hospital care, hospital intervention and rehabilitation care. Events such as this bring us closer to achieving that goal."
Presented by RPH and St John Ambulance (WA) and themed "Prevent, Provide, Progress", this year's conference showcased three keynote speakers – Queensland-based Intensive Care Physician and member of the Australian Defence Force Professor Michael Reade, Medical Director of St John Ambulance (WA) Dr Gayle Andrea Christie, and Managing Director of the WA Department of Transport Iain Cameron.
A/Director of the WA State Trauma Service Dr Stephen Dunjey said all the presentations were remarkable for the fascinating insights they offered.
"One of the highlights was Prof Reade's presentation, which captured his experience in austere environments and knowledge of modern trauma care in a really engaging style," Stephen said.
"Another stand-out session was held on the final morning of the conference, when blood replacement therapy was discussed in depth by an expert group of specialists including Prof Reade, Haematologist Ross Baker and Jenny Vance, an emergency physician who works in our Pilbara region."
Stephen acknowledged that the care of trauma victims remains a challenge in every hospital in our State, and also for our colleagues engaged in pre-hospital care such as St John Ambulance and the Royal Flying Doctor Service, and providers of rehabilitation care.
"The State Trauma Conference allows all providers to gather in a collegiate fashion to learn trauma-specific skills, discuss difficult cases, and hear leaders in the field talk about advances and new directions," Stephen said.
"We are the one of the biggest provinces in the world, and as such, we need a WA focus that addresses the very specific challenges we face.
"RPH, in presenting this annual conference, gives all providers the chance to update, to improve, and to meet and mix with far-off colleagues, whose stories allow us all to get a glimpse of the entire spectrum of care provided in Western Australia.
"Essentially, we have so much to learn from one another."