DonateLife plaque encourages Aboriginal organ and tissue donation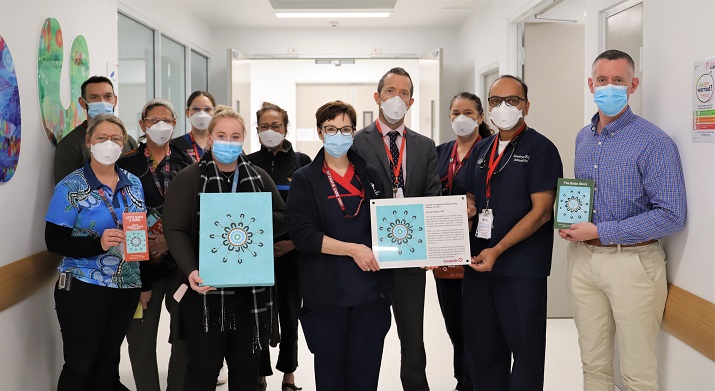 Team members from the ICU and Social Work came together for the presentation.
Last week, Royal Perth Hospital's (RPH) new Intensive Care Unit (ICU) was presented with a plaque from DonateLife WA, called "Coming together to learn".
The plaque features a painting entitled Kurongkurl Kaartdijin by Turid Calgaret, and was commissioned by DonateLife WA for the purpose of starting important conversations about organ and tissue donation within the Aboriginal community.
In the artist's words, the painting represents a "community of men and women coming together to discuss and learn about the concept of organ and tissue donation".
The artwork features the intentional use of calming colours to help facilitate discussion of a serious topic, which isn't traditional practice.
The plaque also includes words that capture the significance of coming together as a community to show how organ and tissue donation can help an Aboriginal person waiting for a transplant.
The unique project was led by Naomi Nelson, Aboriginal Project Officer at the Department of Health on behalf of DonateLife WA.
For DonateLife, it was vital to have guidance and input from the Aboriginal community regarding this serious topic. Naomi and the team led focus groups with Aboriginal community members from across the metropolitan area, and also worked closely with the North Metropolitan Health Service's (NMHS) Aboriginal Cultural Advisory Group.
Dr Anton Leonard, ICU Head of Department at RPH, thanked DonateLife WA for the plaque and said it would have a prominent place within the unit's waiting room for all patients and visitors to see.
"Talking about organ and tissue donations with Aboriginal people is incredibly important because when they donate their organs and tissues, they will most likely be helping another Aboriginal person," Anton said.
"Our team is truly honoured to support DonateLife WA in this project."