New day hospice opens at Kalamunda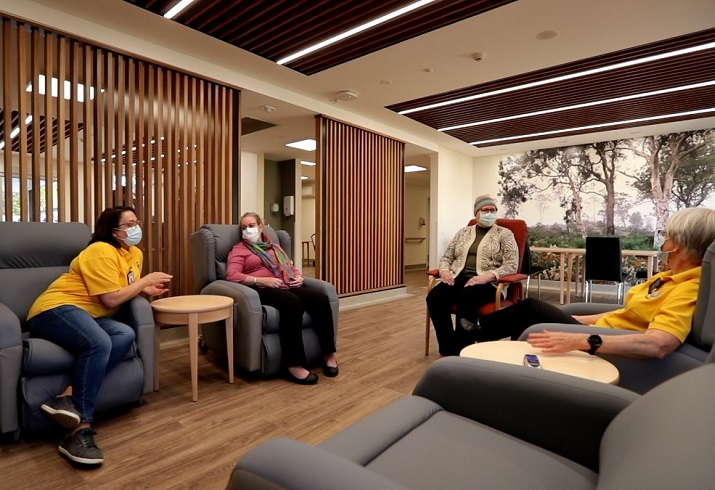 Works have completed on phase 1 of the Kalamunda Hospital redevelopment, with the new day hospice now open.
The hospice – the first of its kind in Western Australia's public health system – offers much-needed respite and support to palliative care patients being cared for at home but who could benefit from some additional support, as they manage a life-limiting illness, thereby offering respite to their regular carers.
Operational for three days a week initially, the hospice is staffed by a multidisciplinary team of nurses, allied health professionals and volunteers who will care for up to 10 patients every day.
A/Director Allied Health, Danielle Kilmurray said the hospice was designed to cater to its patients' physical, emotional, social and spiritual needs, with a highly flexible model of care based on a combination of therapeutic and social support.
"Patients will be able to come into the hospice for the day and receive personalised support from our therapy team as well as benefit from social interactions with others in similar situations, and our volunteers," she said.
Danielle explained that the project had been a complete overhaul.
"The rooms were gutted, and we now have a dedicated entrance, waiting room and new artwork. We've also installed skylights, which means that it's so much brighter.
"The area includes fit-for-purpose therapy rooms, an outpatient room for symptom management clinics, new toilets/amenities, a café-style kitchenette with patio area, and a social room, which opens up to the lovely native garden and surrounding Darling Scarp. The social room has several comfortable recliners to rest and relax, as well as space for activities with volunteers.
"We've really tried to make it feel more like a home and less like a hospital," Danielle said.
Referral forms can be completed online but anyone who works in WA Health can submit an e-referral. External referrals from GPs and other agencies such as Silver Chain, MND Australia, Cancer Council and Palliative Care WA are also welcome.
The $9.5 million redevelopment project will continue until early 2023, with the next stages focusing on upgrading rooms in the existing wards, landscaping, improved access to outdoor spaces and a redeveloped family room, which will include a hydrotherapy bath and allow families to stay overnight.